Buying Miniature Guns
I'm always looking for nice examples to add to my collection.
Miniature pistols were made in Austria, Germany, Belgian, Japan, Mexico, France, England and the USA.
Kolibri Pistol, Antique Miniature Revolver, Tom Weston Miniature Gun
plus others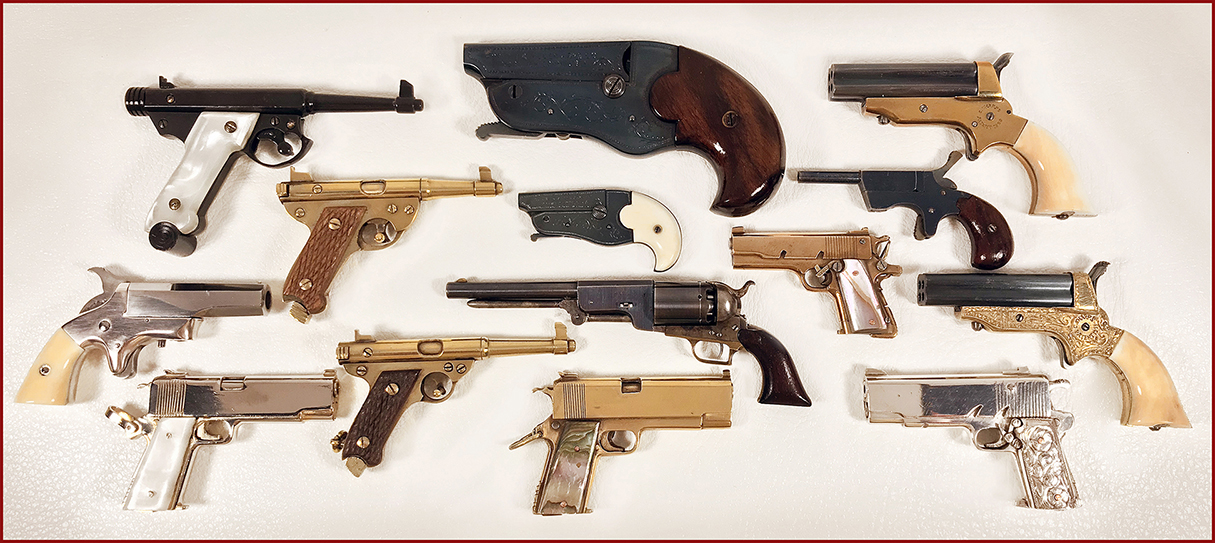 Tom P Weston Miniature Pistols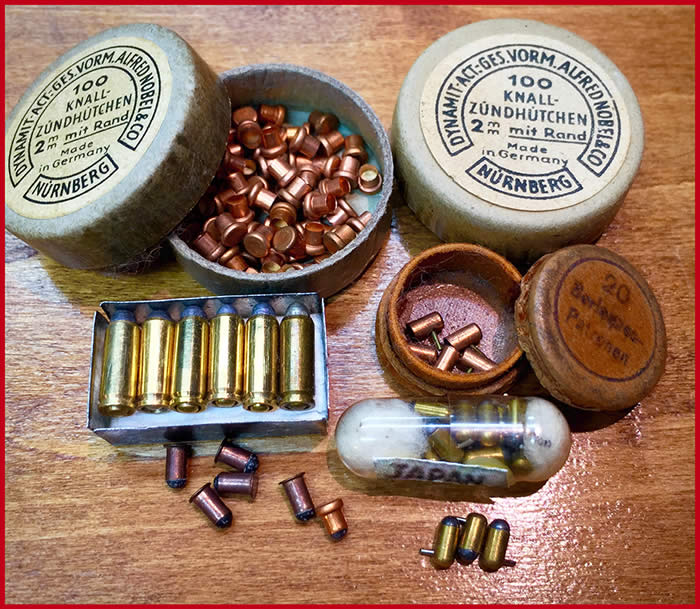 Wanted: Miniature Pistol Ammo.
Kolibri 2.7 mm, 2 mm rimfire,
and others.
---
Tom Weston Miniature Southerner Derringer.
20 caliber rimfire live rounds. Measures 2 1/2" long. Sold in 1955.
---
Imperial Protector Ring Gun & LePetit Protector Ring Gun
3mm Pinfire Revolver & 4mm Percussion
---
Tom Weston Miniature Sharps 1859 Pistol
This is a Deluxe Engraved Weston Miniature Sharps Pepper Box Pistol 2 3/4" long. 2mm rimfire.
---
Stanley Blashak Master Miniature Arms Maker
1/2 Scale Scottish Sash Pistol
An early miniature pistol measuring 7 1/4" long. This is a working black powder flintlock model.
---
Tom Weston Hopkins & Allen Parrot Head Pistols
The first pistol is a full size example and measures just under 3 1/2". 4mm ammo.
The second is a Tom Weston Parrot Head Miniature 1 3/4". 2mm rimfire ammo.
The third miniature is 3mm center fire and very well made. I don't know the maker.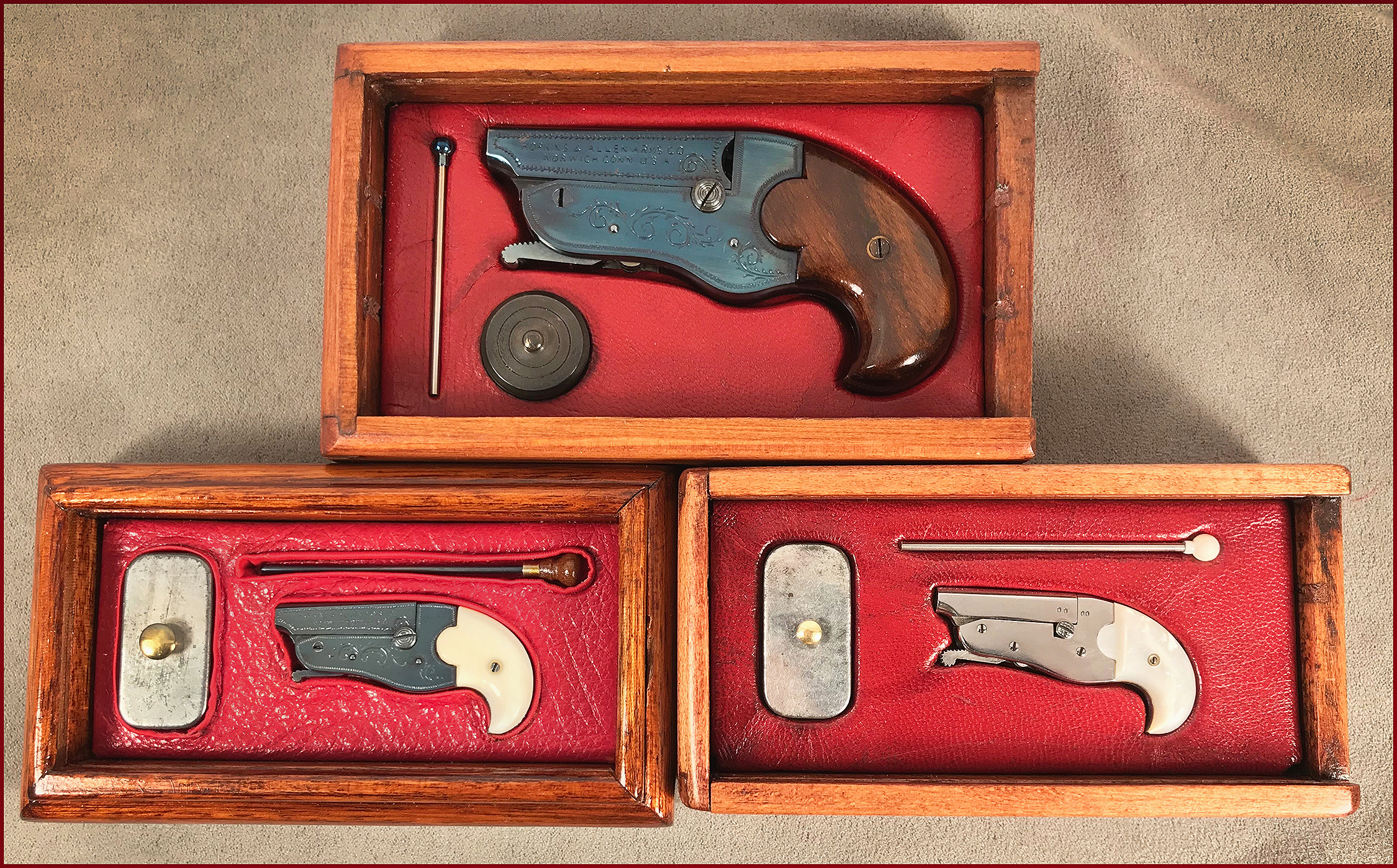 The pearl grip is a true miniature. 3mm center fire. Ivory grip is a Tom Weston. 2mm
---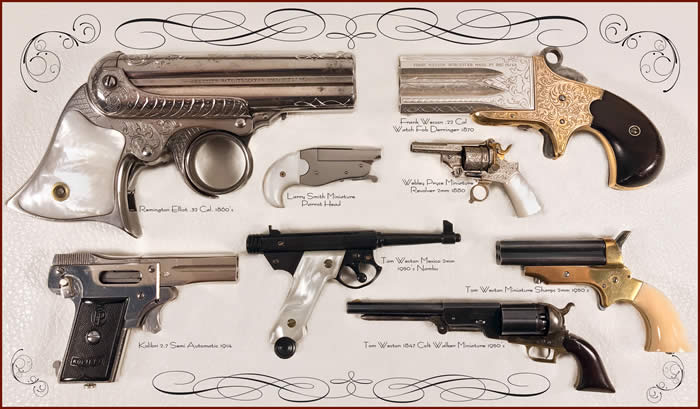 8 Pistols. 3 are full size the other 5 are Miniatures pistols.
The smallest is the Larry Smith Parrot Head at 1 3/4" long.
---
Frank Wesson Watch Fob Pistol
This Vest Pocket .22 Caliber Derringer was worn on a watch chain. 1870's
Illinois Key Wind 1880's Pocket Watch & Belgium Percussion Watch Key Pistol.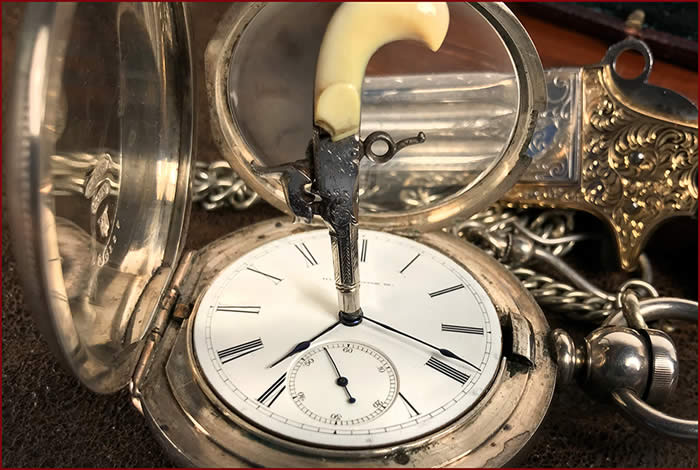 This Miniature Percussion Pistol attaches to a Pocket Watch Chain and used to wind and set the watch.
It is a percussion miniature pistol that shoots a 2mm cap.
---
Miniature 1850's Percussion Pistol
This is a Rare Miniature 1mm Cap and 2mm Ball Black Powder Pistol. The Case and Bronze Container are original.
The Bronze Container holds the powder, caps and balls.
---
Miniature of a Webley Pryse Revolver
This is a Rare Miniature of a Webley Pryse Revolver. 2" long & shoots 2mm thin rim cartridges.. Made in the 1880's in Belgium. Original case.
The left side plate is hinged which can swing open to reveal the internal mechanism. The cylinder will also eject the spent shells.
---
A Rare Group of Tom Weston Miniature Guns
Made for Tom Weston in a Mexico Prison in the 1950's 60's.
Colt 1911 45 and Japan Nambu.
The Nambu Miniatures Are Very Rare. I have only seen 5.
The Solid Sterling Silver 1911 With Engraved Grips is Also Very Rare.
Also Note The Smaller 1911. It is a very Unusual Size 1 3/4" Long and Does Not Shoot a Blank.
Tom Weston Miniature Nambu Pistols....Rare
---
German Miniature Revolver Pistol
These little revolvers are double action.
Dated 1899 On The Presentaion Case.
This is a watch fob in the Original Fitted Case.
The 2mm ammo is a Live Round With a Lead Ball.
Antique miniature Revolver Engraved plus original case. It is a little larger compared to the

others.

Group of 5 miniature

revolvers.

Revolver for the above red case.
Rare Blued Revolver.
Antique miniature engraved Belgium Revolvers. These were used on watch fobs. 1 3/4" long.
A miniature German or Belgium 2-mm Pinfire Double Action 6 Shot Revolver. 1 5/8" Long.
"Le Petit Protector" Percussion Ring gun.
Shoots tiny 4mm lead balls. Very rare as it has only one barrel. Made in France
Rare Belgium engraved

miniature percussion pistols.

Shoots a 1mm cap and 2mm ball.

Rare Belgium miniature pistol watch

fob key & knife. Ivory handles.

Shoots a 1mm percussion cap.
---
Kolibri Pistol
Introduced in 1914 by Franz Pfannl, an Austrian watchmaker.
Kolibri gun 2.7 mm! Manufactured around 1914 in Austria by Franz Pfannl. It is the smallest semiautomatic pistol ever manufactured.
Measures just under 3" long.
Kolibri in fitted case and original ladies purse.
Rare 3mm Kolibri Ammo Box and Ammo.
Kolibri miniature pistol gun

Double barrel Kolibri

miniature gun.

Single barrel Kolibri

miniature pistol gun.
A Rare Kolibri Gun #3 With Square Hammer
In The Original Box & 2mm Ammo Box. 1 5/8" long.
---
Tom Weston Miniature Guns, Mexico City Around the 1950's
Very Rare & Early Tom Weston Mexico City, Colt Walker 1847 Miniature Pistol! Marked "A Company 3".
The frame and hammer have cased colors. Very unusual. Most are blued.
This will actually shoot a 12 calibre bullet. 1/4 Scale, 3 7/8" long! Made in the 1950's.

Rare Tom Weston Mexico Miniature Sharps Pistols.
Tom Weston Miniature Rifle, Mexico City

Miniature Winchester 66 Rifle. Made early 1950s.

Tom Weston Miniatures

BelMex, Colt 45, Japan Nambu
3 Very Nice Tom Weston Belmex

Miniature Guns. 3mm & 2mm

Tom Weston Mexico. Colt 45

and Japan Nambu. Miniature pistols.
---
Fred Thacker Miniature Guns (Texas), Mexico City Around the 1950's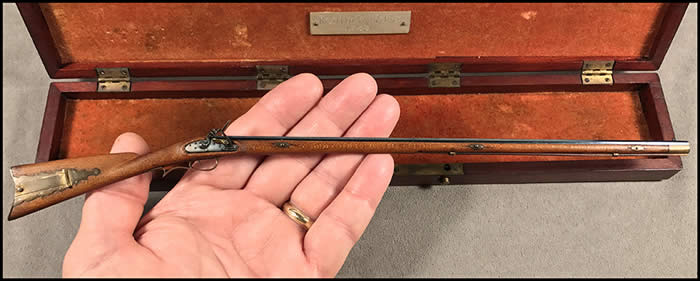 Fred Thacker, Kentucky Rifle Miniature 12 1/4" long. Original Case
Fred Thacker Miniature Colt Walker, Made in Mexico in the 1950's. 4 1/4" long. Original case.
This Walker will acually fire. The Top Colt Walker was made by Tom Weston.
---
Miniature Pistol Knife D.R.P.a
A Rare Antique Miniature Pinfire Pistol Knife. 1 1/2" long, 2MM, Germany.
This is the first antique miniature of this type I have seen. Marked D.R.P. a on the barrel.
---
Larry Smith Miniature Pistol. From Florida about 1970's
Miniature Frank Wesson Swivel Barrel gun with Automatic Pop Out Blade. 2mm Rimfire.
Probably made by Gene Clark, famous Watchmaker & Gunsmith in Colorado. 2 1/2" long.
Larry H. Smith, Frank Wesson Swivel Barrel Miniature Pistol. Shoots 2mm Pinfire blanks.
The other I believe was made by Gene Clark, famous Watchmaker & Gunsmith in Colorado. Just under 2 1/2" long.
Larry Smith Colt Patterson 2mm Pinfire.

Larry Smith Remington Elliot

Miniature gun. 2mm.
Kolibri #3 2mm Rimfire Pistol.

Miniature Flobert 2mm Rimfire Pistol.

Reportedly Made By Famous Watchmaker

Gene Clark.
---
Miniature Colt 1911 Pistol, Made by Alex Baez California.
The Large Colt 1911 Pistol Dates to 1918, WW1.
Made by Alex Baez. Miniature Colt 1911 45 Pistol. 1 11/16" long!
The large pistol is an early 1911 Black Army Colt 45. WW1.
---
A Unique Miniature Colt 1911A1. 1 1/2" long.
Fully functional just like a real 1911. Loads and ejects. Does not shoot.
Hand made of Sterling and Stainless.
---
Austria Miniature Pinfire Guns. Made from the early 1900's to the 1950's
| | | |
| --- | --- | --- |
| Rare Pfannl Miniature Rifle with Rare Scroll Stock. Made in Austria | German, Austrian & Japan Miniature Pinfire Rifles. | Rare Germany Miniature Rifle with Rare Scroll Stock. |
Japan Miniature Pinfire Rifle with Rare Bayonet

Rare Austria Miniature Rifle Made of

mostly Brass. Others are steel.
Rare Box For Austria Pinfire Rifle + Ammo Box
Austrian Pinfire pistols. Made around 1900.

The one on the right is one of the smallest

I've seen with a case.

Cased miniature Pinfire guns made in Austria.

Late 1800's.

Fisher Firesure & Dosick miniature guns

in original boxes. Made in USA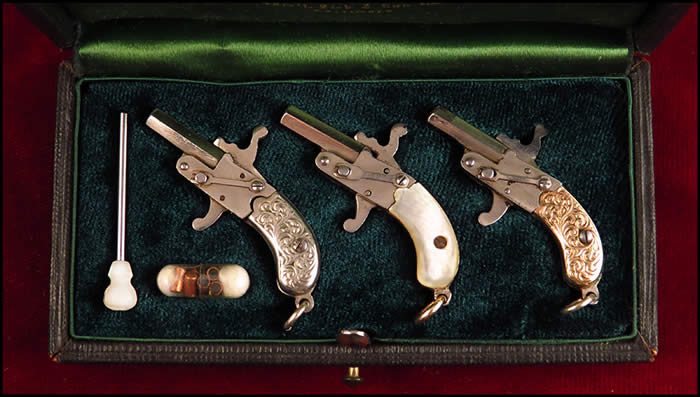 3 Cased Austria Miniature Pistols.
---
Rare H S Kolibri miniature gun.

Original Box.

Miniart Thompson Submachine Gun Made in Russia.
Miniature Little 45, American Gun Mfg. Co.

Rare double set miniature pistols from

American gun Mfg. Co.,

consecutively numbered.
---
All photos are protected under copyright laws.
No reproduction without my permission.